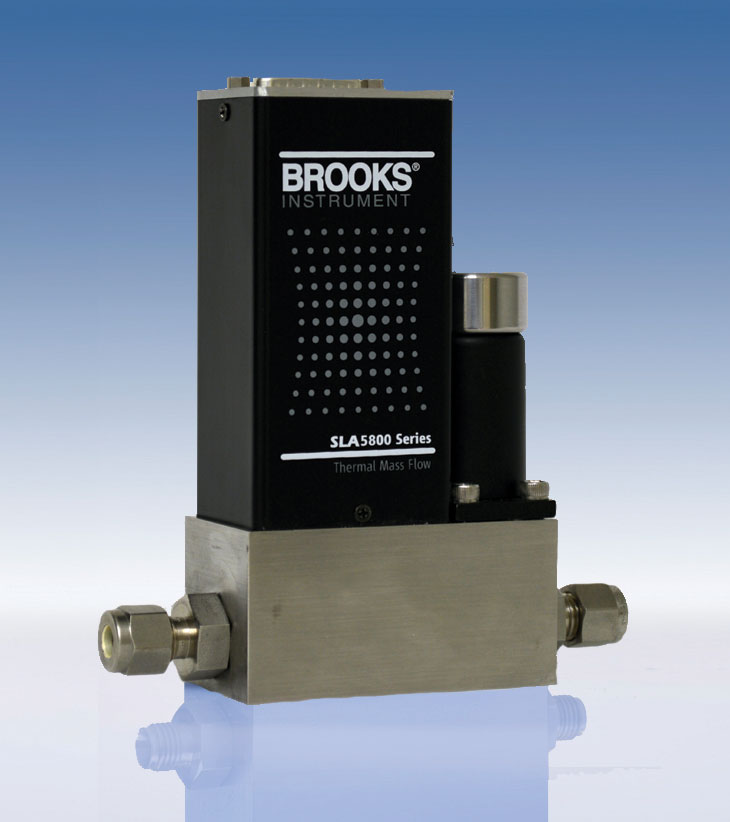 Venus
is surrounded by thick clouds of sulfuric acid, and this atmosphere has prevented NASA from closely observing its surface. Exploration probes landing on the planet have only lasted up to one hour due to Venus' harsh environment, where temperatures spike to 870 degrees Fahrenheit, and the atmospheric pressure is about 90 times that of Earth.
Sending a new exploration module to Venus' surface will require NASA to ensure the module and its electronic components can withstand these conditions. Engineers at
NASA's John Glenn Research Center
worked with Polycontrols Technologies to develop a gas mixing system and chamber that will simulate high thermal stress and Venus' corrosive atmosphere to test the new exploration module.
Once completed, this system will use Brooks Instrument's
SLA7850S, SLA5850S and SLA5853S mass flow controllers
to create precise mixtures of gases such as carbon dioxide, carbon monoxide, hydrogen chloride and nitrous oxide in the chamber. All of these gases can be found in Venus' atmosphere and contribute to the planet's acidic environment.
Sales Process
NASA was unable to find an off-the-shelf solution for its gas-mixing needs. By the time it approached Polycontrols Technologies, NASA was looking for not only a hardware provider, but for a solutions provider.
Because of the aggressive nature of the gases required for testing, Polycontrols needed to specify mass flow controllers for the gas mixing system that would give them a predictable accuracy. The Polycontrols team turned to Brooks Instrument's SLA series of mass flow controllers, which are exceptionally stable, accurate and repeatable, to minimize gas flow measurement and control uncertainty.
Polycontrols' team tested the SLA series and ran calibration reports for each mass flow controller using NASA's specifications. Brooks' SLA series proved that they could accurately produce proper gas concentrations to the parts per million (PPM) precision that NASA sought to achieve in the test chamber.
"We developed a turn-key solution using the SLA series and assisted NASA engineers in writing the detailed gas mixer specifications," said Sylvain Desaulniers, Engineering Manager at Polycontrols. "Our bid matched the specifications without exception, and we became a single-source provider for NASA's project."
Gas Mixing System
Once built, the gas testing chamber will be housed inside one of NASA's laboratories. The chamber, constructed from Inconel, has a volume of 28 cubic feet.
The gas mixing system consists of two free-standing cabinets that connect to the chamber. The first cabinet contains all of the electrical equipment but no gas handling components. This prevents damage to the electrical equipment in the event of a gas leak. The second cabinet contains all gas handling components: mass flow controllers, valves and a bubbler.
The gas mixer has nine different gas streams. Each gas source is purchased in a pre-mixed concentration and will be diluted with carbon dioxide to the desired value using Brooks' mass flow controllers. The mass flow controllers will be given individual set points from a programmable logic controller (PLC), and they will ensure the gas mixtures are correct at all times.
Once complete, NASA engineers will be able to place materials in the chamber and fill it with precise gas mixtures. Time to fill the chamber will be less than five minutes, and tests will last according to the desired exposure for the materials undergoing testing. Once NASA sends the exploratory module to Venus, it hopes to keep the module on the planet's surface for two days.
Due to Venus' slow solar rotation, one day on Venus is equivalent to about 243 Earth days. So, materials used to build the new probe will need to withstand sulfuric acid and temperatures above 800 degrees Fahrenheit for more than 480 Earth days.
NASA plans for the gas mixing system to be fully operational for materials testing by spring 2011.