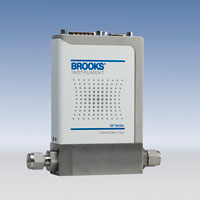 This has been a product that we have been working on and perfecting on over the past several months and I'm extremely excited to finally formally launch the new GF40 and GF80 thermal mass flow controller and flow meter! These mass flow controllers provide outstanding performance, reliability and flexibility in many gas flow measurement and control applications. One of the best features of this new mass flow controller is the patented 4th generation MultiFlo gas and range configurability. MultiFlo programming is simple and fast – a new gas and range can be programmed under 60 seconds plus the device can be programmed without removing it from service or disconnecting the device from any process or tool control system.
The GF40/GF80 Series mass flow controllers features fast sub one second settling times and corrosion-resistant Hastalloy sensor tube for long-term stability. The superior valve technology provides minimum leak-by, maximum turndown and fast response which reduces overall gas panel cost and increases throughput. Additionally, the measurement accuracy of every device is verified using traceable primary calibration standards.
Want to learn more? Download the datasheet or contact your local sales engineer.