Bedien maximaal 30 Mass Flow Meters at Once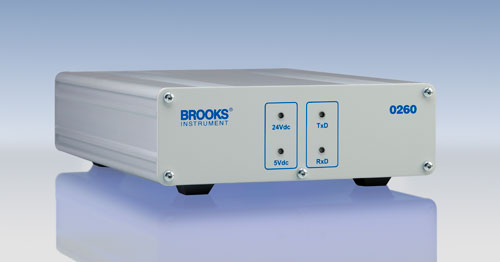 Brooks is verheugd aan te kondigen dat klanten nu kan maximaal 30 massadebietmeters / massastroom controllers tegelijkertijd met de nieuwe Brooks Smart Interface (BSI) 0260 software en hardware tafelblad module. Deze Windows ®-gebaseerde software-applicatie breidt uw controle en monitoring mogelijkheden voor thermische massa stroom Brooks 'meters en controllers.
De BSI 0260 elimineert de noodzaak voor meerdere secundaire elektronica dozen. Dit zal u helpen ruimte te besparen, vereenvoudigen de controle en vermindering van de totale kosten in het laboratorium en onderzoek omgevingen.
When looking at the BSI 0260's main screen, you can see the full-scale flow rate and measure flow rate. You can also view and adjust the set point, as well change valve override status. Device and alarm status is also available on the main screen.
De BSI 0260 provides data logging, batching and blending, and it lets you create automated process recipes. Recipe control eliminates the need for you to intervene to adjust set points at designated times. That alone will help you improve process reliability and productivity.
De BSI 0260 will work with the following Brooks instrument mass flow products: 4800 series, SLA5800 series, SLA7800/7900 series, and Mf and SLAMf series.
For more information about the BSI 0260, klik hier.