What technology do I use to measure liquid level in my tank? Does this matter?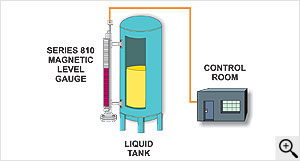 When I was a process engineer, I did not have the time nor the money to try and explore new technologies.  I wanted something that was proven, worked well and did not give me headaches.    In an industrial production environment, unlike R&D, no one wants to be the guinea pig. A production line depends on the decision you take. Therefore, it is important to have the necessary information at your finger tips to help you make that critical decision.
I have to tell you that it is really confusing out there. Every company tries to spin its own product as the best solution since sliced bread. In reality, we all want an unbiased knowledge database to learn from and refer to when we need help. I hope this blog is a start of a discussion to build our knowledge of fluid level measurement.

I'll start with some of the things that I know and I hope to hear your thoughts on the issue. The first thing I typically consider when making level measurement is my application. Am I interested in measuring level continuously across a certain distance in my tank or am I just interested in knowing whether or not my liquid reaches a certain level? The answer will determine whether I need continuous level measurement device or a point-level on/off alarm. Then I consider my operating conditions such as temperature, pressure, viscosity, specific gravity, type of liquid, mechanical connections etc. These conditions, depending on how extreme they are, may limit my choices of technologies and vendors. I'll also look at my measurement requirements:  accuracy, resolution and repeatability. Do I care if the liquid level moves up and down by 1 mm or would 20mm accuracy be sufficient. The answer here may influence the technology and cost of the measurement device. Then I may have to choose between electronics or mechanical technologies which is an important decision because electronic devices are typically more accurate but they of course require power while mechanical gauges are great for visual and reliable measurement and they don't require power. Electronic technologies include hydrostatic, ultrasonic, vibration, capacitance, radar, load cell and others. Mechanical technologies include magnetic level gauges and the more traditional transparent sight glasses.
In most cases, I decide on what I know best to maximize my success and minimize my risks. Tell us what works well for you. Looking forward to the discussion…